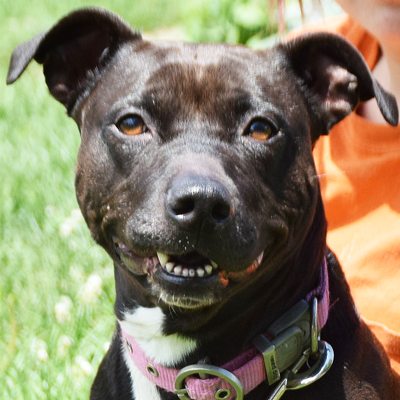 I AM IN FOSTER CARE! PLEASE FILL OUT OUR ADOPTION APPLICATION, ONCE PRE-APPROVED, GIVE US A CALL AND WE CAN SET UP AN APPOINTMENT FOR YOU TO MEET ME!
Note from Sasha's foster mom: "Sasha is so happy. She loves being outside in the backyard in the sunshine and fresh air, car rides, walks, cuddles, treats, her new bed and loves! She is such a blessing and we all love her a lot. I call her my little meatball. She had us laughing yesterday and today because she loves hopping up on the couch and my bed. Sasha burrows under the blanket and snuggles."
All dogs are microchipped, neutered, current on all vaccines, heartworm tested and started on Tri Heart Plus; Vectra 3D.
All household members and any dogs from the household need to be present at the time of the adoption.
Our website is always kept 100% up to date with who is currently available. As soon as animals are adopted, they are moved to the Adopted Pets page so if they are still listed on the Adoptable Dogs or Cats page, they are still available. So keep any eye on the site for any animals being added as available for adoption as new animals are added everyday! We would recommend if you haven't done so already that you submit a general online adoption application with us so it is on file for when you are ready to come out and adopt. The adoption counselors will be able to show you many that would be a good fit for your family. Animal House Shelter can not guarantee breed or breed mix of our adoptable animals. The animals are posted on the website as a breed or breed mix based on their physical characteristics they most resemble. We also can not guarantee the ages of our adoptable animals.
Please fill out an online adoption application. Visit our 'Adopt' page to view adoption process steps, policies, requirements and FAQ. View our 'Visit' page for hours and directions to our shelter. We look forward to seeing you soon!