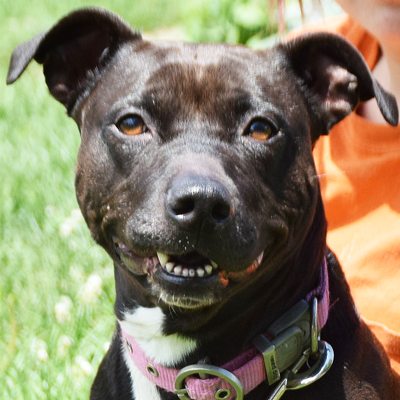 Note from Sasha's foster mom: "Sasha is so happy. She loves being outside in the backyard in the sunshine and fresh air, car rides, walks, cuddles, treats, her new bed and loves! She is such a blessing and we all love her a lot. I call her my little meatball. She had us laughing yesterday and today because she loves hopping up on the couch and my bed. Sasha burrows under the blanket and snuggles."
All dogs are microchipped, neutered, current on all vaccines, heartworm tested (if age appropriate) and up to date on preventatives at the time of adoption.
All household members and any dogs from the household need to be present at the time of your appointment.
The shelter is currently open by appointment only with an approved application. Please note, all applications are considered general and stay on file for 6 months. Specific animals are NOT put on hold for adoption. When you visit, the adoption counselors will be able to make suggestions based on the type of pet you are looking for and help you find the best fit for your family.
Animal House Shelter cannot guarantee the breeds of the adoptable animals. The animals are posted on the website as the breed or breed mix based on their physical characteristics they most resemble. We also cannot guarantee the ages of our adoptable animals or how large puppies will be when fully grown.
We look forward to seeing you soon!